AMSA – American Moving & Storage Association was established in 1936 and is known in the world as a non for profit trade association. AMSA consists of more than 3200 members, among which take part highly qualified international movers. Our company gained recognition of AMSA and is at the moment one of its international members.

EURA – 9ekim Group is proud of being a Full Member of EuRA. European Relocation Association was established in Belgium (Brussels) in May 1998 and nowadays more than 350 relocation companies worldwide are present in the list of its members. EuRA is considered a professional organization and is respected and well-known in the European Relocation Industry.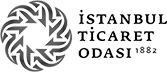 ITO – It is obligatory for private entities in Turkey to possess membership in the relevant to activity and region chamber, so 9ekim Group was officially founded by obtaining the membership in ICOC in 1995.
Istanbul Chamber of Commerce (ICOC) is one of largest non-governmental organizations in Turkey, aiming to promote and facilitate domestic and foreign economic development within Istanbul, as well as support Turkish economy.

Worldwide ERC – Worldwide Employee Relocation Council – the workforce mobility association for professionals, who deal with managing, overseeing or supporting US domestic and international employee transfer. Worldwide ERC was founded in 1964 with the scope of helping members overcome the challenges of workforce mobility and over 12000 professional companies have found a home together with Worldwide ERC®. 9ekim is a member of worldwide ERC, specializing in Relocation Management Services in Istanbul and whole Turkey.

Republic of Turkey Undersecretariat of Customs – Customs Clearance in Turkey is restricted to a number of persons or organizations, which possess the License of Customs Broker. In 1995 9ekim Group obtained the License and the authorization Undersecretariat of Customs of Turkey. On the 1st of January 1996 Turkish Customs legislation was adapted to European Union legislation, so the applications of EU Customs Union are at the moment applied by the Turkish Customs, which simplified the customs procedures.

Istanbul Customs Consultants Association – Istanbul Customs Consultants Association (ICCA) consists of licensed customs brokers assisting the procedures related to international commercial, supporting the development of different industries, facilitating import-export procedures. One of these experienced and respected by different government and non-government organizations brokers is the owner of our company.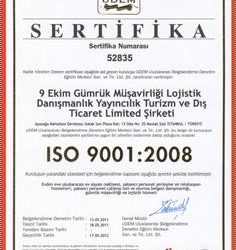 ISO 9001:2008 Quality Certificate – ISO, International Organization for Standardization, represents the list of rules stated by the organization metioned. ISO9001 Quality Certificate approves the international accreditation of the company and its services, and directly means that the structure and management of the organization fit the standard norms, being an additional support to quality level of products and services. The services rendered by 9ekim Group of Companies fit the international standards. ISO9001:2008 Quality Certificate obtained by our company is another factor, which explains why it is better for you to choose us.